---
Alternative Environmental Technologies combats climate change using technologies which minimize the environmental impact of fuels.
This is part of a series of articles highlighting specific ways that AET's various patented technologies can be used to combat climate change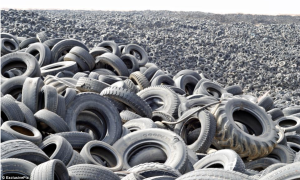 March 15, 2022
Alternative Environmental Technologies and Tire Recycling: Combating Climate Change
---
AET's lead engineer, Jack L Waldron, stated, "The Sulfex ™ technology, through years of development and research, has been refined into a technology that is a robust and well-defined industrial process. This patent provides protection to this process as it has been refined."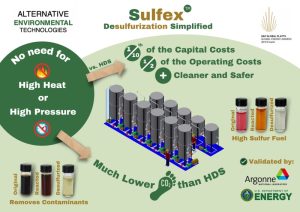 December 28, 2021
U.S. Patent Office Issues Further Patent for Alternative Environmental Technologies' Sulfex™ Desulfurization Tech
---
AET's Vice President of Business Development, Barry Dallum stated "The achievement of an additional patent on the Sulfex™ system displays our continued commitment to our Sulfex desulfurization process to new fuels applications. This process has a lower capital investment, lower operating cost, lower carbon footprint and is safer than other desulfurization processes."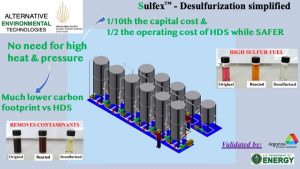 August 20, 2021
U.S. Patent Office To Issue Additional Patent for Alternative Environmental Technologies' Sulfex™ Desulfurization Tech
____________________________________________________
"We are very pleased that the Nigerian government has seen the benefits of AET's cost saving and environmentally friendly desulfurization technology.  My entire team and I are very excited about the opportunity to move this forward," stated APPL Executive Director Muawiyah Umar Farouk.
August 10, 2021
Nigerian ministry approve to deploy Sulfex™ desulfurization technology
---
"AET would like to congratulate APPL and their team on this important milestone. We look forward to working with APPL to bring our Sulfex desulfurization technology to West Africa," stated AET Director, Jack Carter.

August 4, 2021
Alternative Environmental Technologies Announces Nigerian Ministry Approval to Deploy its Sulfex™ Desulfurization Tech

---
The intellectual property that is set forth in the latest allowed patent provides further enhancements to the Sulfex™ technology. By focusing further on the timing of the removal the Sulfur species as related to the reaction equilibrium, a further reduction in processing times and quantities of reagent and stripping constituents can now be achieved. Such advancements enhance an already efficient Sulfur removing process.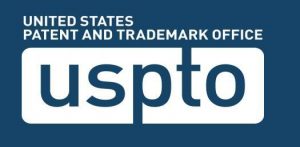 April 8, 2021
U.S. Patent Office Allows Patent for Alternative Environmental Technologies Sulfex Desulfurization Technology

---
APT's Director, Jack Carter also stated "Opal offers an excellent entry-point into an under-served market. We are looking forward to the opportunity to work with them."

November 10, 2020
Alternative Petroleum Technologies Announces  Apointment of Distribution Partner for 15 Southern African Countries
---
"We are honored to partner with APT to continue our eco-friendly, sustainable business mission while supporting global environmental improvement initiatives at a reduced cost. In Petroil we are committed to the innovation and production of environmentally friendly fuels," states PETROIL's CEO, Mr. Luis Alberto Hincapié Carvajal.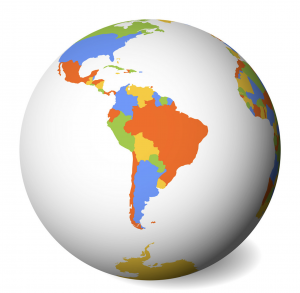 October 28, 2020
Alternative Petroleum Technologies Announces Distribution Partner for Select Latin American & other Countries
---
"We are honored to partner with APT to continue our eco-friendly, sustainable business mission while taking advantage of the Nigerian Federal Government's gas liberalization policy" stated APPL Executive Director Alh Muawiyah Farouk.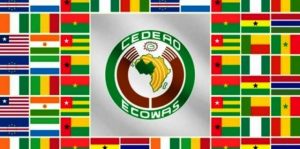 January 22, 2020
Alternative Petroleum Technologies Signs Distribution Agreement for 15 African Countries
---
"MICAVA has been keeping good communication with APT for several years. We admire the innovation ability of APT's researchers and witness their scientific research achievements. There is no doubt that Sulfex™ is a leap in the development, which has injected new vitality into the low-cost desulfurization for global eco-friendly refining. We are honoured to be the partner of APT, and we believe that APT and Micava can make contribution to the technological progress of China users through both parties' efforts" stated MICAVA CEO and President, Yu Chenghai.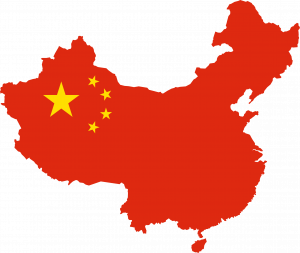 December 20, 2019
Alternative Petroleum Technologies Announces Appointment of Distribution Partner for Mainland China
---
Mr. Wankawisant stated "I am very excited to collaborate with APT in bringing APT's full range of environmental technologies that deliver highly stable and cost-effective fuel emulsions that can address Thailand's critical and urgent necessity to reduce air pollutants."
December 2, 2019
Alternative Petroleum Technologies Announces Appointment of Business Development Representative for the Thailand Market
---
As APT has continued to work on Heavy Fuel Oil ("HFO") desulfurization methods, new research and development findings have been applied to its distillate desulfurization methods. The newest development utilizes a reaction control fluid to control the stepwise oxidation required to obtain low oxidant consumption levels in the desulfurization of distillate fuels. Initially developed for HFO desulfurization, in distillate fuel desulfurization the reaction control fluid allows for the almost complete recirculation of the acid catalysts and other modifying reagents, thus further reducing reagent costs.

July 25, 2019
APT's Sulfex™ Desulfurization – New Research Leads To Even Lower Cost
---
APT's Sulfex™ Desulfurization process has been independently validated by the U.S. Department of Energy's Argonne National Labs (www.anl.gov) and has been optimized to produce ultra-low sulfur fuels at low cost. 

December 13, 2018
Alternative Petroleum Technologies expanding Sulfex™ Desulfurization process to additional fuel types
---
Jack Waldron, APT Vice President and Chief Engineer, commented that "Our new Sulfex™ desulfurization process is a game changer for the petroleum industry in that Sulfex™ is a simpler, safer and more economical alternative to the traditional process of Hydro-Desulfurization, which requires high temperatures, high pressures and a significant amount of ancillary equipment. We are honored that S&P Platts has recognized the significant benefits that Sulfex™ will bring to clients in their continuing efforts in meeting stringent global environmental regulation standards."

October 2018
Alternative Petroleum Technologies, Inc. (APT) Named by S&P Global Platts as Finalist for the 2018 Global Energy Awards
---
Petroleum refineries must meet increasingly stringent levels for sulfur content in fuel, but the conventional hydrodesulfurization approach requires high-pressures and temperatures. Alternative Petroleum Technologies Corp. (APT; Reno, Nev.; www.altpetrol.com) has piloted an oxidative desulfurization technology, known as Sulfex, that can remove sulfur from liquid hydrocarbons at near-ambient pressures and temperatures. Eliminating the need for high pressures and temperatures cuts both capital and operating costs for sulfur removal by at least half

October 2018
OXIDATIVE DESULFURIZATION APPROACH FOR HYDROCARBONS LOWERS COSTS

---
 "Barry brings an extremely strong portfolio of experience and skills to APT," said APT Executive Director, Steve Stevanovich.
 Dallum has more than 35 years of experience in refining, petrochemical, mineral and polymer industries holding engineering, technology and marketing positions at international companies including E.I DuPont, OwensCorning, Conoco/Phillips66 and BP (British Petroleum). He has completed MBB (Master Black Belt) Lean 6Sigma certification and is an expert at operational excellence in supply chain, project management, technology commercialization, engineering, marketing and sales.

June 2018
APT adds Vice President of Sales as it launches new desulfurization technology

---
Argonne National Laboratory seeks solutions to pressing national problems in science and technology. The nation's first national laboratory, Argonne conducts leading-edge basic and applied scientific research in virtually every scientific discipline.

March 2018
Painting a clear picture of how nitrogen oxides are formed

---

January 2018
Alternative Petroleum Technologies Ready to Deploy Lower Cost Desulfurization Technology

---

December 2016
APT receives funding for proprietary technology
---

January 2016
Promising results from APT clean technology fuel trial
---

May 2015
Results of APT's Sea Trial show significant savings
---

May 11 2015
Fuel-saving trial from APT for New Zealand ferry
---

May 11 2015
APT's Sea Trial Begins in New Zealand
---

April 2015
Results of APT's Fuel Oil Emulsion
---

March 2014
APT demonstrates 5% fuel savings
---

March 2014
Emulsion trial could spark new interest